Did I tell you?
Two of my daughters went to Africa this summer. One took a class studying carnivores, behavioral ecology and conservation challenges. (Yes, I did just cut and paste this from her field study guide and no, I do not really know what that means without googling it.) My other daughter worked in a village primary school teaching English to Tanzanian children.
If I didn't tell you this already then you must not have been in my company in the last few months. It has been my favorite thing to talk about. If you passed by me in the grocery store and shouted, "How is your summer going" I shouted back "Great, Ryan and Bella went to Africa."
You see, I really want to be that free-spirited, worldly kind of woman. You know, the type that can pull off a nose stud in her 40's and whose kids take gap years. In my mind I am Zoe Kravitz, mellow and confident with braided hair and bare feet. But, in reality I am Claire Dunphy, uptight and anxious.
My easy-going demeanor is a guise and honestly, I was scared to death about them being so far away. I woke up many nights thinking about abductions, rare diseases, lions and wondering what the hell I was thinking.
I wasn't vey adventurous at their age. I went to the same catholic high school my Mom attended and chose a college 30 minutes away from my house. I began working the day after graduation and currently live 10 miles from the house I grew up in. Don't get me wrong, I wouldn't change any of this. I married my best friend, who I have known since high school and live in an area near many of my childhood friends. I come from a long line of worriers, my grandmother, mom and sister to name a few. We are always calling each other with warnings. Wash your lettuce it was just on the news that it has E. coli, and I just heard there is a flesh-eating disease in the water so keep the kids out of the ocean.
Before they left I made a few phone calls hoping to put my mind at ease and help me sleep through the night. I was assured by the "Safety and Student Life Coordinators" that both programs had been around for over 35 years and the health and safety of their students was their foremost priority. The village was surrounded by an electric fence and the students would be accompanied by armed guards at all times. And there would be night guards surrounding their camp while they slept. I was not sure if this information made me feel better or worse. It was necessary to have guards with machine guns protecting my daughters while they slept. Where was my Xanax?
The girls needed specific vaccinations before they could enter Africa.
We had been going to the same pediatrician for twenty years and I knew he had "neurotic mom" written in our chart. After all, I was the mom who showed up with a list of questions and articles to their appointments. I couldn't wait to tell him the girls were going to Africa. He would be so proud.
For years he told me my job was to "teach them to be independent and to let go." He would cross off "neurotic mom" and write "laid-back mom." Instead, when I told him about their trips he asked me "why are you sending your daughters to Africa?" Seriously Dr. B, now you are being conservative? The nurse came in with typhoid shots, MMR boosters and malaria medicine. I was informed that the yellow fever vaccination was not available. There was actually a nationwide total depletion of the vaccine because the manufacturer was in the process of moving to a new facility. WTF? The summer my daughters are going to Africa the yellow fever vaccination is not available anywhere in the United States. Let me explain what yellow fever is if you do not already know. It is a disease transmitted by mosquitos that could lead to bleeding, shock, organ failure, and sometimes death (again Google). The alternative was a French vaccination not previously FDA approved, but due to the shortage was temporarily permitted. Awesome, I love giving my kids vaccinations that are not FDA approved. Finding the vaccination was another story. It was of course in great demand and many clinics were completely out of it. So, we traveled two hours to a passport health clinic.
The nurse who worked at the clinic was no joke. Actually, she scared the shit out of me.
She was an African native with a stern voice who warned us of the risks of traveling to a foreign country. She explained that the girls were in danger of contracting dengue fever which was on the rise. She also cautioned us about the zika virus, malaria and cholera. She told the girls how important it was to get up and walk around during the 14-hour flight so they did not get deep vein thrombosis which could cause a pulmonary embolism. But my favorite was the rabies talk. In a stoic voice she informed us that "anything with fur in Tanzania has rabies, the cute little cat who rubs up against your leg…rabies. The wild pup chasing you….rabies. The bat flying around your room at night….rabies." A nervous laugh erupted from Bella. The type that happens at inappropriate times when you know you shouldn't be laughing but just can't stop. I looked down at my hands and concentrated on not laughing. The nurse was pissed. "You think it's funny? You know what happens if you get bit and do not seek medical attention within 24 hours? You die." We stopped laughing.
I left the clinic a nervous wreck. I kept telling myself it was a good thing I was better informed, so I could be proactive. The first thing I did was purchase the permethrin insect repellant treatment she recommended for clothing. It most definitely was poison. I hung the girl's clothes on a rack in a well-ventilated area and sprayed each article of clothing while wearing a breathing mask and gloves. The instructions specifically said not to inhale or get the spray on your skin. But I was spraying this on their clothes that they would be putting on their skin? I guess a little poison is better than contracting malaria and yellow fever?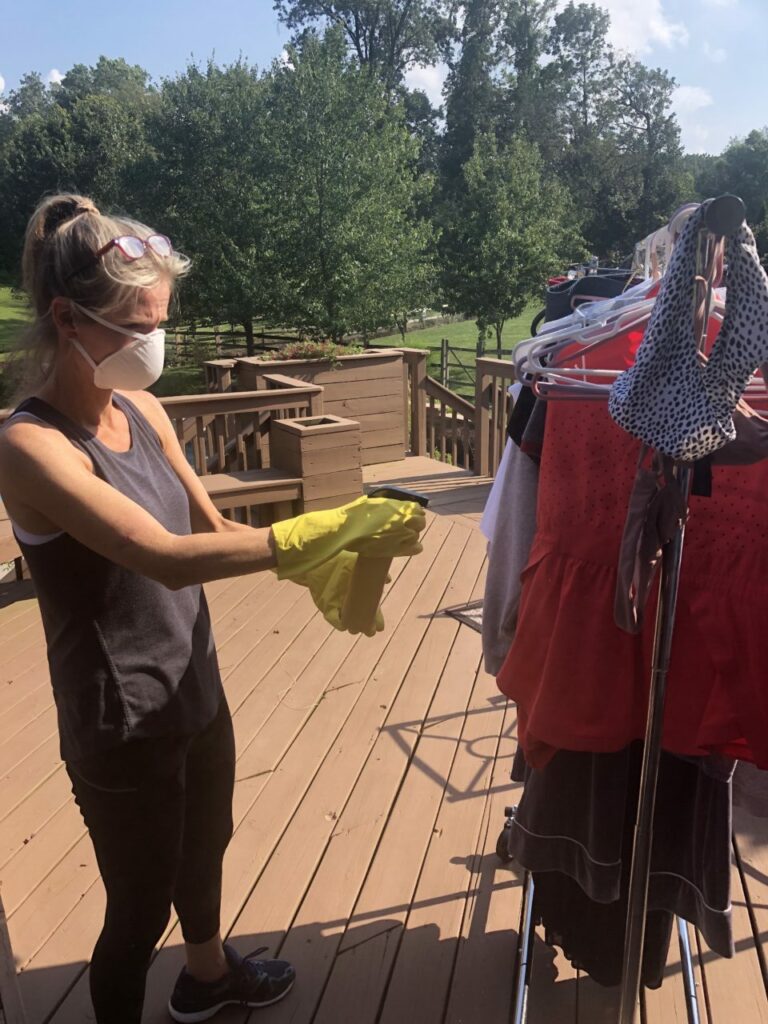 Passports, visas, immunization records, headlamp flashlights, mosquito hats, convertors, adapters, international calling plans, elephant pants and long skirts…they were packed and ready to go. I reminded them how to go through customs, complete an immigration form, take their malaria medicine, not to lose their phones or drink the water and to use bug spray and sunscreen. We weighed each piece of luggage. Bella's suitcase was 57 pounds…. we needed to get rid of 7 pounds. As we started to unpack she kept pulling out baggies stuffed with hand sanitizer. I guess every time I went to CVS I bought a few more bottles (of course while telling the saleswoman my daughters were going to Africa). When she finally took all the hand sanitizer out and reweighed the bag it had gone down by 5 pounds.
Had I really packed 5 pounds of hand sanitizer?
They left at different times, one month apart. Both times I watched as they headed to the security check point and waved goodbye. Both times my heart ached. But I was proud of the independent and adventurous daughters I had raised. They weren't scared. They were excited for the adventures that awaited them.
The funny thing is that once they were in Africa I wasn't scared anymore.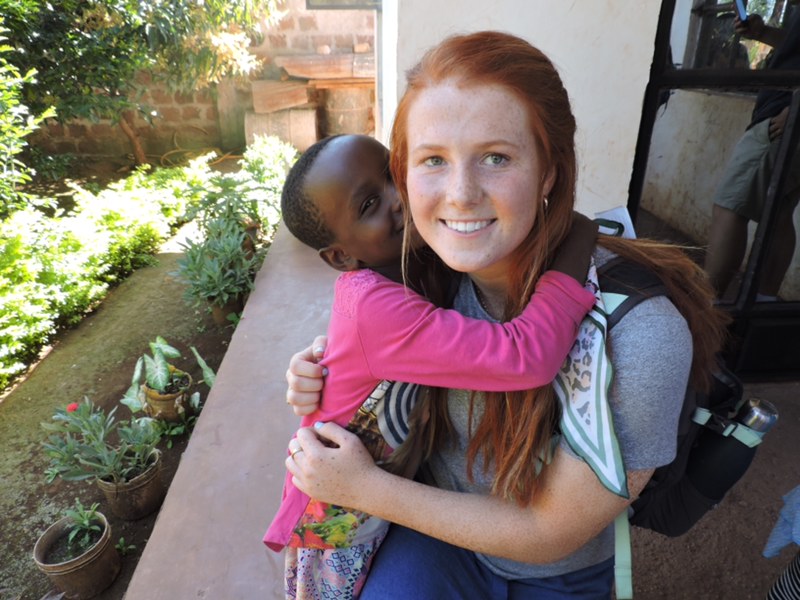 Ryan sent us pictures of a "boma" she helped build for a family to protect their livestock. Bella (who I have to nag to get her clean laundry away) helped restore and paint a school. She told me about the children she taught and how they walked two hours a day to get to the schoolhouse. She watched women carry enough water for three days on their heads while walking a mile back to their village. Ryan learned how to throw a spear in case a wild animal attacked her (which should be helpful in Chester County, Pa) and witnessed a goat being slain in a traditional African ceremony. Not surprisingly, she has since decided to become a vegetarian.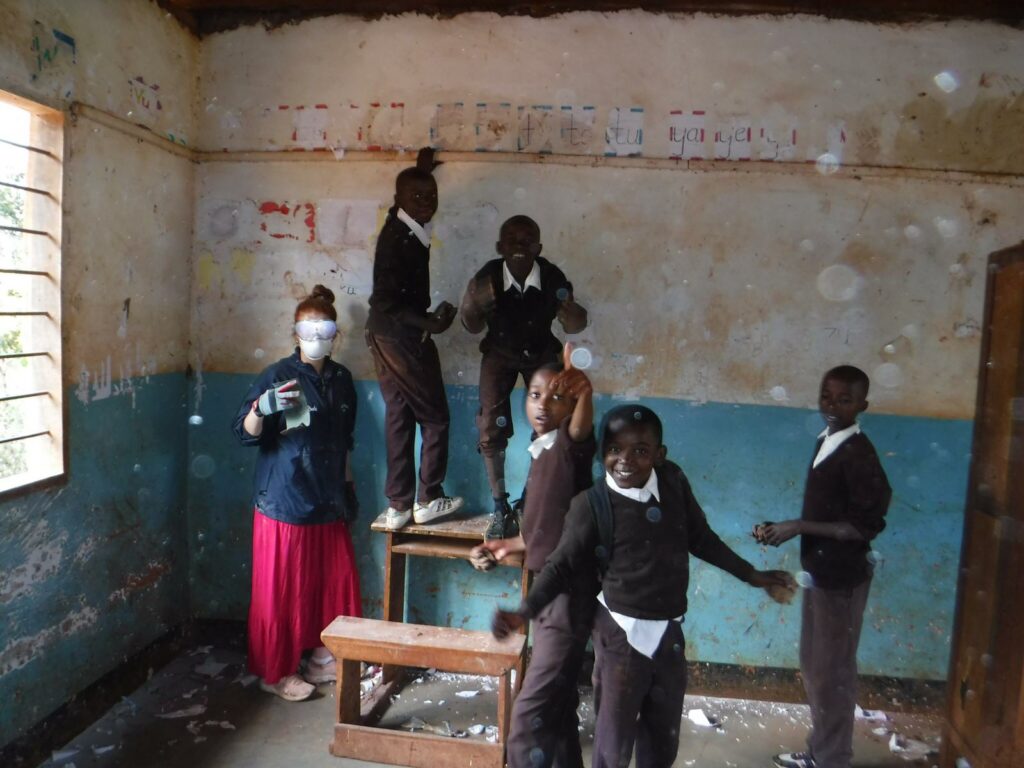 I hope this experience helped open their eyes to how fortunate we are and kindle a desire to give back (or at least motivate them to do their chores).
I am not going to lie, I can't wait until September when everyone is home.